What Is ACDF Surgery?
ACDF stands for anterior cervical discectomy and fusion. This type of neck surgery treats intervertebral disc problems in the neck (cervical spine). Anterior means the surgeon goes in through the front of the neck rather than the back, which would be posterior. The surgeon then removes the damaged disc and adds a tissue graft so the vertebra fuses to the one above it, eliminating potentially painful movement.
What Does ACDF Treat?
Not everyone with disc degeneration disease experiences symptoms. But those who do usually suffer pain in particular.
ACDF treats cervical radiculopathy, which means pain radiating from the cervical spine to other parts of the body, usually the arms. Cervical radiculopathy is itself a symptom of a nerve compression disorder such as a herniated disc.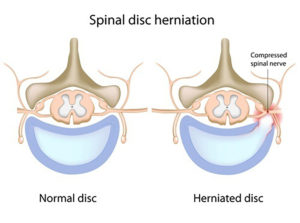 Each vertebra has a fibrocartilage disc that sits between it and the vertebra above it. These discs act as shock absorbers. For a variety of reasons—acute injury or chronic wear and tear—these discs have the tendency for the soft inner layer to punch through the hard, outer layer. If this bulge presses on a nerve root, neck pain or radiculopathy are possible results.
The procedure can also treat cervical myelopathy, which is compression of the spinal cord itself, as opposed to nerve roots. Cervical myelopathy may cause radiating pain, numbness or weakness, like radiculopathy can, but it can also cause pain to the neck itself.
Who Is a Candidate for ACDF Surgery?
ACDF is rarely a first-line treatment. Since many if not most cervical disc herniations go away on their own, most spine specialists recommend a conservative approach first. Nonoperative treatments can include:
Rest
Physical therapy
Nonsteroidal anti-inflammatory drugs (NSAIDs)
Corticosteroid injections
If nonsurgical treatments have proven ineffective and the patient still has radiculopathy, an ACDF can be a very effective treatment.
How Is the ACDF Procedure Performed?
An ACDF surgery is performed under general anesthesia, i.e., the patient is asleep. For many people, it is an outpatient procedure, meaning no overnight hospital stay is necessary.
It is a two-part procedure. The first part clears out damaged pieces of the disc and gets it off the spinal cord or nerve roots. The second fuses two vertebrae together for extra neck stability.
First, a surgeon makes an incision or incisions in the front of the neck. During an open procedure, a one- to two-inch incision is used, whereas minimally invasive ACDF uses multiple smaller incisions. The surgeon moves aside thin layers of muscle and tissue to access the vertebra.
The damaged disc may be removed entirely, or the herniation or bone spurs causing the compression may be removed. That's the discectomy part.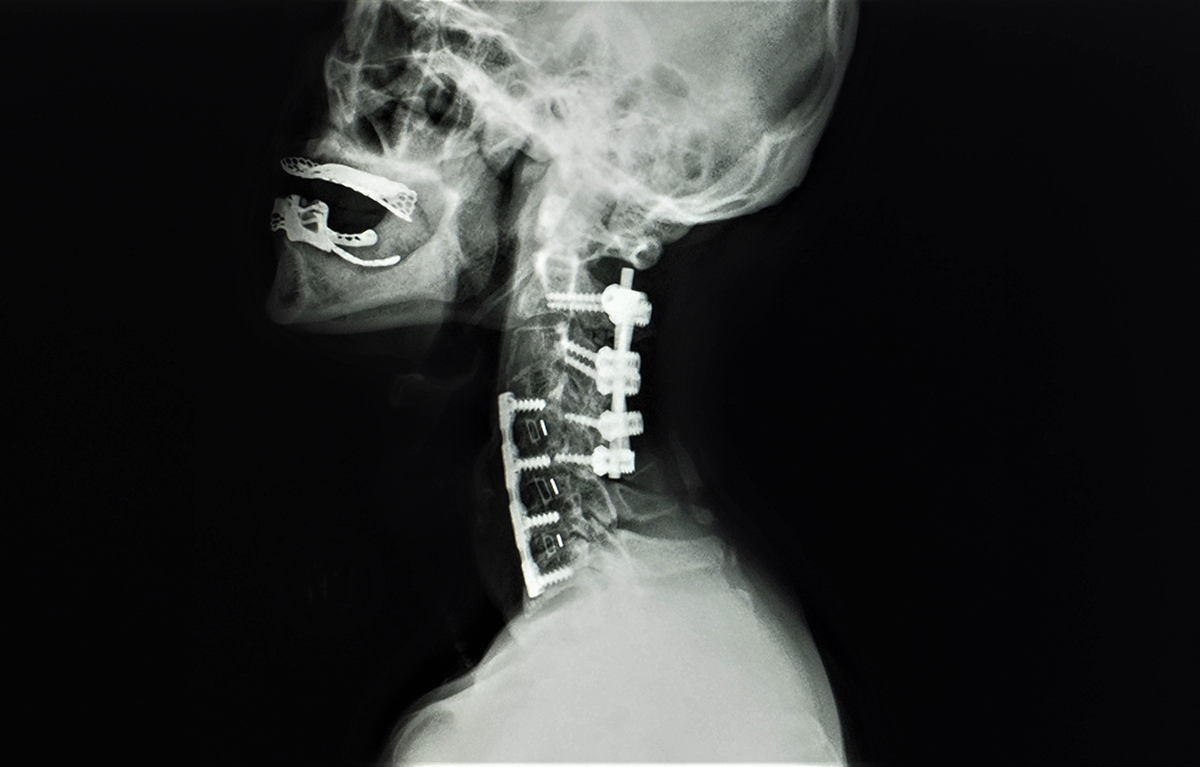 Fusion comes next, and this is where the anterior approach has an advantage: It is easier for the surgeon to perform the fusion. Fusion surgery does not immediately merge the damaged vertebra with the one above it. Instead, it creates an environment in which the body can grow new tissue and fuse the two vertebrae.
The surgeon will either insert a piece of tissue directly between the vertebrae, or will put the tissue into a spacer cage and put the cage between the vertebrae. The tissue is bone, usually either from the patient's own hip (called an autograft) or from a donor (an allograft). The body then uses the bone graft as scaffolding to grow more tissue, and will eventually grow entirely between the two vertebrae, merging them into one.
Accessing the damaged vertebrae from the front has a few distinct advantages compared to a posterior approach, according to some research:
Lower cost to the patient
Lower rate of complications
Lower rate of reoperation
Shorter hospital stay
What to Expect After ACDF Surgery
ACDF surgery recovery time can vary from patient to patient. Some will be ready to return to work within a few days or a week, although it can take a month or more for others to recover. It usually takes about three months for the neck fusion to harden.
Following surgery, rest, ice and anti-inflammatory medications can help control pain and other side effects from the surgery. Physical therapy will be an important part of recovery. Physical therapy is aimed at strengthening the muscles around the neck and whichever arm was affected by radiculopathy, and learning to deal with the reduced range of motion that comes with a spinal fusion.
Most patients have good outcomes from ACDF surgery. A 2018 study with data from 272 people suggests that about three out of four patients report positive changes in their health and pain levels after ACDF.
If you have neck pain or radiculopathy in the arms that hasn't gone away after conservative treatment, request an appointment at Edison Spine Center. Our expert surgeons can diagnose the cause of your pain and help determine if ACDF or another treatment is right for you and your condition.